I was on the east coast this weekend on a short trip. Beautiful fall colors, beautiful red-eyes (mine after the night long flight) and of course beautiful Boston (or Baastan, as the locals pronounce it. It was great to finally see a city in America with some history. You know, they actually have references to the 1700s. Boston is a nice city, with the quaint mixing with the modern. It is especially reflected in the architecture of the buildings. The subway is easy to get around in, and I even spent a little while in Harvard (sorry MIT, shall visit thy campus next time I am there) . There is so much weight associated with the name Harvard. You almost expect geniuses pouring out of each street (four years in the US have wisened me, but I would have believed that 10 years ago). Hell, even my office-mate is from Harvard (or Haavard, keeping in sync with the right pronounciation)I have never posted any photos to my blog, and trust me, my first one is going to be a blockbuster (its a deep pun, good for you if you get it). Ladies and gentlemen, here is the most unexpected piece of beauty in the most unexpected place. Buland Bhaarat ki Buland Tasveer --- Hamara Bajaj!! Its the Bajaj Chetak in Boston downtown.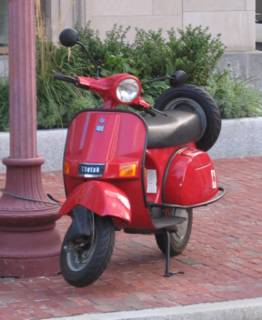 Chunnu-Munnu ke paapa ki sawaari

While on the topic of unexpected Indian things in unIndian places, here's one more that I saw in Boston downtown.
Bustling Bhindi Bazaar in Boston (how's that for alliteration?)

While on Bhindi Bazaar, for those who aren't aware, there is actually a gharaana in Hindustani classical by the same name. The most famous product of that gharaana is known widely and has also found a mention in my blog (easy for those who have actually been reading it :-))