... while we wait for a repeat. June 25th is a red-letter day in Indian sport history. Probably the greatest. And I don't remember any moment of it. None at all. A month shy of my fifth birthday, what else was so critical to my life on that day that clouded my memory thus? What other momentous occurrence caused me to forget the exuberance that I have waited another twenty years to feel and haven't felt yet? Kapil's Devils had won the World Cup on this day circa 1983. Out of the blue, up against the odds, the underdogs had defeated the rampant West Indians. I have seen highlights of the match several times since. From Srikanth's 38 to Kapil's great catch of Richards to Amarnath's match winning performance, the match was the making of a cricket team. The cricket mania took off for good in India ever since. In a way, it was this match that caused the downfall of other sports in India (I mean this is a relative sense, other sports weren't phenomenally popular, but they just vanished after this).
The closest we got was the last World Cup finals. I wanted India to win because Tendulkar deserved it. The man has practically constructed India's team since he joined in 1989. Your Sehwags and Dravids are direct products of the Tendulkar effect. He single-handedly shepherded India to the finals breaking the record of most runs scored in a single World Cup tournament as well as becoming the highest scorer of runs in World Cups. The finals were a great chance for the resurgent Indian team to show its mettle too. Alas, the finals were lost at the end of the first over from Zaheer. I don't remember the pleasure of India's success at the world cup, but I remember the agony. How I wish I get to see the joy of seeing India win next year. The World Cup is next year. Why am I writing this article right now? You are right. The timing is off. This article should have been written a year back. In this day and age, its all about preparation. You can't start six months in advance and build a winning team. That's how Australia won the last two world cups and may win the next one. That's why we need to fire up our one-day team which is in the pits right now.
Am I just a die-hard optimist or can the Indian team bring me yesterday once more?
Running away with the match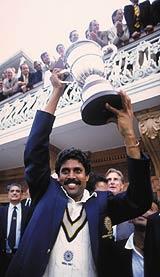 Kapil with the World Cup