Time for some pictures. These are from my weekend hike to
Snow Lake
, WA near the Snoqualmie Pass. The trek was of moderate intensity and was 2.5 miles one way. What awaited us at the end was the grand view of the lake that my camera is well short of capturing. I hope to have better pictures of my hikes henceforth. Till then, enjoy the view.
View from the base of the trek
Some more mountains on the way
Sparse snow creates good contrast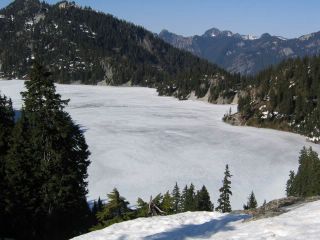 Prize view at the end of the trek -> The entire lake was frozen!